Appletree Farm Cooperative
Local Produce, Eggs and Flowers Shares
This year, Stéphanie will team up again with a few local gardeners/farmers to bring to you what the seasons have to offer. We have an "a la carte sign-up", where you can pick the month(s) you would like to sign up for. You can choose to pick up your box at the farm (Appletree Farm is located at 85488 Appletree Court) or at our South Eugene delivery site (Garfield and 23rd).
2020 pick up is on Mondays.
I will do my best to provide a large variety of crops including berries, apples and pears (this fall). Selection is also dependent on weather and sometimes pests, which define crop availabilities at times. Thank you for supporting your small farmer!
Our farms are not certified organic, but we passionately practice organic growing techniques and do not use synthetic fertilizers or sprays.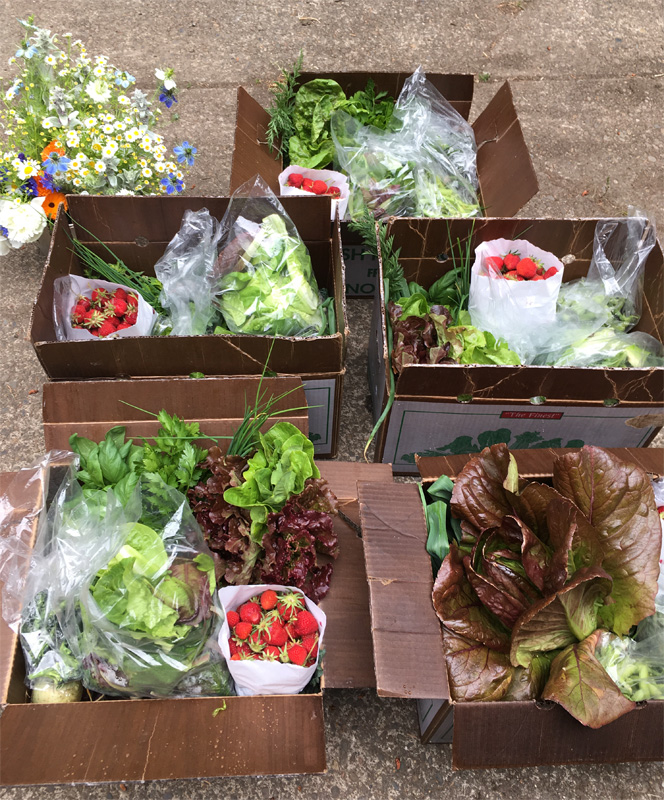 Prices for Produce/Eggs/Flowers
Boxes are usually suitable for a family of four. You may also request ½ boxes.
Regular Produce CSA is $28/week
½ box Produce CSA is $17/week
Farm Fresh egg CSA is $6/week
Fresh Flower CSA is $9/week
The 2019 CSA will run from June 1st through September 21 st
June 1 through June 22 (4 weeks) $112/ $24/ $36
June 29 through July 20 (4 weeks) $112/ $24/ $36
July 27 through August 17 (4 weeks) $112/ $24/ $36
August 24 through September 21 (4 weeks) $112/ $24/ $36
PLEASE NOTE THAT OUR DROP OFF / DELIVERY DAY MOVED FROM FRIDAY TO MONDAY
Please contact us if you have any questions or wish to sign up for a share.