In the middle of a pandemic
Lambing was well on its way when Schools closed, Peter stayed home, and the life as we knew it changed. March of 2020 brought worldwide changes that will forever alter the social landscape of our world.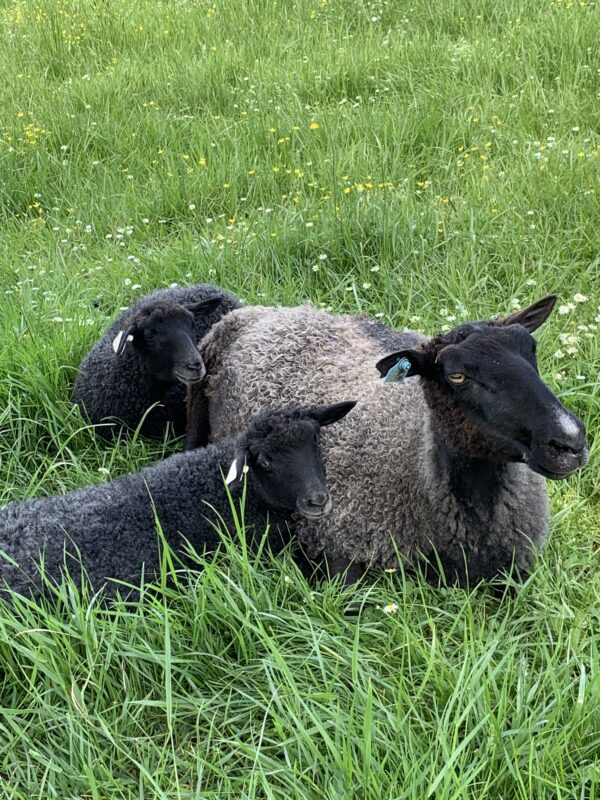 As a farmer, who spends a lot of time on the farm, my everyday life did not really change but my load of work increased tremendously, indeed, many layers got added to the plate including the "plat de resistance", schooling our youngest son, Peter. Over the course of a few days he and I fell into somewhat of a routine. Morning chores, school, tea time, mid day chores, zoom playdates, afternoon play, screen time, evening chores, never ending work. The joy of being together alternated by the need for alone time. The simplicity of a day at home yet the need to reach out.
Peter is raising 2 merino lambs right now. One of them was going to be his Black Sheep Gathering project but now he just is his project since most shows are cancelled. He has really taken on seriously his shepherd's role. He is really maturing in his ability to care for the sheep. His help is huge on the farm. I watch him pulling up his Merino's blanket and looking at the nice white fleece underneath and saying "Maman isn't it beautiful?" and to me that is a melody to my ears because he gets it! All these hours we spend taking care of these sheep, helping them produce beautiful fiber, fiber that we will in turn sell or wear ourselves. What a beautiful thing to witness the workings of a perfect collaboration between man and nature.
A pandemic, the fears that go along with it, the uncertainties of the future, the unknown for what tomorrow or a week from tomorrow might look like, the economic hardship change the face of life and life on the farm is no stranger to these changes, so I move along slow and steady and assess what is in my power daily. I adapt, I get upset, I switch things around, I get discouraged but in the end I never give up.
The first big positive change is that folks seem to value today more than ever the access to good, fresh, local food. Our Produce-eggs CSA boxes sold out quickly and I could have sold more in fact. Even the flower shares have sold, people are supporting beauty in their life, they are taking the time to appreciate something beautiful and spending a few dollars to bring colors and texture in their home.
The lamb sales are also very healthy. People are wanting to support a local farmer and know how their food is grown and where it comes from. Our lambs live a good life here at the farm, they are cared for daily with love and they know a deep connection to their shepherd. Some of them stay in our breeding program, some of them contribute to feeding our family and other families in the community but in the end they are all cared for the same.
We breed Gotlands for quality and a lot of our Gotland sheep are sold as breeding stock. This year has been challenging. Starter flocks or sheep that were reserved got cancelled and I am working really hard at trying to find good placements for some of our best lambs. We had a terrific lambing season with good quality lambs. I am also spending a lot ore time on social media posting, answering questions, sending pictures, filtering inquiries. Marketing probably is my biggest challenge, my tech skills are limited, my ability to reach a wide audience immature, my time on the computer minimal. Mental note for myself: How can I keep on expending this instrumental skill?
We had scheduled some workshops on the farm. One of them was cancelled (it was to happen in the thick of the outbreak), our skinnfell class is still on as of now and we will play it by ear. So yes, this source of income, that helps diversify the farm, finds itself shattered.
Our annual children summer camps are still on hold until we figure out what the recommendations for the summer might be.
Our FarmStay that we were going to launch this June 2020 is also on hold, it is not exactly the best time to have strangers come to the farm! I have been thinking about other ways to utilize this beautiful space that we are creating.
It is hard to tell how the sales of raw fleeces will be affected by this economic downfall after Fall shearing. This is usually where I make a lot of our wool farm income and although folks might love to have a beautiful Gotland fleece to work with, money might be hard to justify spending on this luxury item!
I will say that running a small diversified farm requires a lot of imagination! Under the circumstances, what can I do to enhance this farm experience? What could I provide to get people to support us in a way that makes them feel safe and that brings them joy? How can I shift things around to make it possible? How can I keep running the farm like a profitable business under the circumstances?
So for now, Onward and Forward we go, we carry on what we know to do best, caring for sheep, growing food and being a family farm.